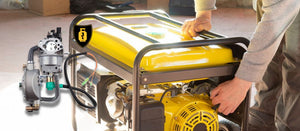 SA's LEADING SUPPLIER OF Conversion Kits For Generators & Water Pumps
LPG Conversion Kits For Generators & Water Pumps
Saves Money, Saves Lives, Saves the Planet
Enjoy Substantial Saving in operating costs
FEATURED COLLECTION - GENERATOR CONVERSION KITS
GX-100 Dual Fuel Conversion Kit
GX-160 Dual Fuel Conversion Kit
GX- 390 Dual Fuel Conversion Kit
FEATURED COLLECTION - CONVERSION KITS FOR WATER PUMPS AND STATIONERY ENGINES
GX-160-WPWC Duel Fuel Carburetor for Water Pumps and Stationery Engines
GX-160-WPBC Dual Fuel Carburetor for Water Pumps and Stationery Engines
GX-390-WP Dual Fuel Carburetor for Water Pumps and Stationery Engines
ADVANTAGES OF CONVERTING YOUR GENERATOR TO LPG GAS
SAVES MONEY
Cost-reduction and Efficiency
LPG has an extremely high thermal efficiency.
When used as fuel for generators, it offers far superior efficiency than petrol, increasing the duration of the output and decreasing your energy costs.
In a head-to-head economic cost comparison, LPG delivers a substantial saving in overall operating costs when compared to petrol.
SAVES LIVES
Safety and Durability
Apart from being far safer to operate than petrol-fed units, running on LPG extends the working life of your generator, thanks to its smoother operation when compared to petrol.
In long periods of dormancy, gas will not produce any sediment, thus avoiding any difficulty starting up or sediment deposits damaging the engine.
One also avoids any wastage from stale petrol, oil slicks in the carburetor or dilution of the generator's internal lubrication.
SAVES THE PLANET
Environmentally Responsible
Gas-fueled generators are far better for the environment than traditional petrol-fed units.
Gas generators decrease carbon monoxide (CO) emissions by more than 90%, and hydrocarbon emissions (HC) by more than 70% compared to petrol generators.
At the same time, because the gas combustion is quieter than fuel combustion, the noise output is lower than that of the fuel-fed units.
CUSTOMER REVIEWS
With our ridiculous loadshedding in SA and the cost of petrol, I heard of this technology. I ordered the kit from Gasgen and received it within 3 days and installed it myself. It was so simple after following the instructions supplied.


The advantages are less carbon emissions and money saving to mention only 2. I have emailed all my friends and family who have gennies to consider this idea.

Trevor
Considering that this specific generator will burn it's own price in fuel within 460 hours, this kind of saving is absolutely worth the effort. After sales service is off the charts. Gordon does not rest until you are happy, and I can honestly say that I am.

Jaco
Just want to say that it took me less than 30 minutes to swop carburettors for the dual one on my Ford 6500KVA genny. It started 1st time I turned the key and Voila! 100%.

I am very glad, as it is a bit more quiet and uses much less money on the gas than fuel.

Good product!!!

Eric
Purchased the conversion kit as a leap of faith, to our absolute pleasure it really works well and after some fairly comprehensive testing, the results are certainly positive.
On average we have reduced our fuel bill during load shedding by around 45%.
We use around 700 g LPG per hour as apposed to 1.8 L petrol per hour .
Have recommended the product far and wide.

Allan
I purchased a GENERATOR CONVERSION KIT GX-390 DUAL FUEL. It was delivered within 3 days. I had a problem in getting it to start. A technician was sent out the same day and my problem was fixed in a couple of minutes. The kit works perfectly, and I will recommend Gasgen Technologies to everybody. The staff is very friendly and helpful.

Deon
GX-100 CONVERSION KIT
The GX-100 Dual Fuel Carburetor conversion kit is used for 1KW to 3KW Generating sets
Weight: 500g / 1.0lbs
Easy to install and operate.
12-month warranty on the product. 
GX-160 CONVERSION KIT
The GX-160 Dual Fuel Carburetor conversion kit is used for 2KW to 4.8KW Generators
Rated Output (Watts): 4,000 Max Output (Watts): 5,000
LPG (liquefied gas) pressure range: 2.8 KPA - 3.8 KPA
CNG (compressed natural gas) pressure range: 2.0 KPA - 2.6 KPA
Pressure-regulating valve output pressure: 0.03 - 1.56KPA
Pressure-regulating valve closing pressure: 3.50KPA
Weight: 880g / 1.9lbs
GX-390 CONVERSION KIT
The GX-390 Dual Fuel Carburetor conversion kit is used for 4.5 to 8KW Generators
Rated Output (Watts): 4,500 Max Output (Watts): 5,500
LPG (liquefied gas) pressure range: 2.8 KPA - 3.8 KPA
Pressure-regulating valve output pressure: 0.03 - 1.56KPA
Pressure-regulating valve closing pressure: 3.50KPA
Weight: 880g / 1.9lbs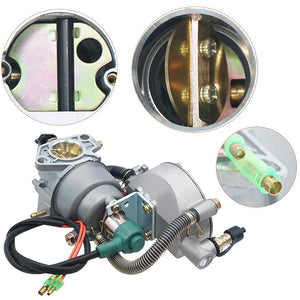 COMPATIBLE WITH THESE (AND MANY OTHER) GENERATOR BRANDS